By Clif Johnson, Pastor of Garrett Memorial Baptist Church, Hope, AR 
Did you know that what we support shapes our world? "Liking" something on Facebook is a support mechanism that promotes the statement or action that we "liked." Wearing a shirt or hat in support of a political candidate supports that candidate's platform and the changes he or she is promoting. Buying grass-fed beef and eating natural foods supports a healthy lifestyle and sends a signal to retailers about the changes we would like to see in grocery stores. What we like and support in turn changes the world. With this in mind, what is the biggest change you would like to see in the world? How are you supporting that change?
For me, the biggest change I want to promote and see is people in the darkness of their sin being transferred into the kingdom of light. I want to participate in shaping lives radically lived for Jesus. I want to see change that leads from spiritual brokenness to spiritual vitality! I want to be a part of the shift from people being lost to being found. And I want to see that take place around the world!
One problem we consistently run into as believers, however, is we cannot be all around the world at once. Yet God has designed a plan. His ultimate goal is for the gospel to be preached in every nook and cranny of the world so that He can redeem a people from every tribe, tongue, and nation. He is in the process of doing that right now. We, as people who believe in the Great Commission and yet who cannot be in all places at all times, can partner with national missionaries and church planters of the Baptist Missionary Association (BMA) spread across the globe. God's goal can become our goal. We can become outsiders partnering with insiders.
One of the most influential ways that we shape the change we want to see in the world is by helping finance the change we want to see in the world. The ChangeMakers program allows you to do that very thing. ChangeMakers is BMA Missions' avenue to connect us to national missionaries who are making a gospel impact all around the world. Through our personal investment, we are supporting the gospel change we so desperately want to see in the world.
In 2013, David Dickson introduced Garrett Memorial Baptist Church to a national pastor in Belize named Cesar Lacayo. We instantly connected with him. Brother Lacayo is the pastor of Bungiu Wama (God With Us) Baptist Church, whose ethnic composition is primarily composed of Garifuna people, but also includes English and Spanish-speaking members. Cesar is a Garifuna, originally from Honduras, who moved to Belize when he was twenty years old. After attending Bungiu Wama for a short time, and serving as an associate pastor, the senior pastor of the church died. The church asked Cesar to be their next pastor because they saw both spiritual depth and leadership ability in him. Since then, Cesar has been working a fulltime construction job, often putting in sixty hours a week, while also pastoring Bungiu Wama. Many times he preaches in three different languages in order to accommodate his people.
For the past three years, people from Garrett Memorial have made trips to Belize and Bungiu Wama, helping them to have a secure meeting place for church, conducting dental clinics, and teaching discipleship training courses. Since Belize's national language is English, Belize is an ideal place to introduce first time travelers to the mission field. The language is one less hurdle to overcome when a person is thinking about taking a flight and entering a new culture for the first time. For this reason, many people from Garrett Memorial have taken that first step onto foreign soil where they can meet Cesar, his wife Francisca, their children, and the people of Bungiu Wama face to face.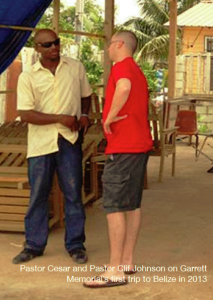 These frequent trips to Belize have helped shape us into a healthier church. We all know that worship comes when our hearts are transformed by truth. Those who have been to Bungiu Wama experienced this truth in the simplest of forms. The Garifuna people love drums and rhythm, and one of their favorite instruments is the turtle shell! We knew to expect something different when entering a Bungiu Wama worship service (we are used to a full band, full praise team, and praise music). What we discovered were people lifting their voices to the beat of simple instruments. None of our common accessories were present—no electric guitar, no special lighting, no piano, no microphone. Instead, we found believers worshiping together with make-shift instruments. Today, we still use electric guitars, microphones, and a full praise team. However, we were reminded from visiting Bungiu Wama that what is absolutely necessary for worship is people transformed by the truth of God's Word.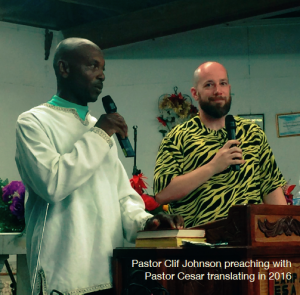 Partnering with Pastor Cesar and Bungiu Wama also changed the way we think about missions at home. In Belize, we do not hold services at the site of Bungiu Wama, expecting people from the community to show up just because we are having a service. Rather, we go into the different parts of the community, sharing the gospel. These days at Garrett Memorial, we do not expect the community to come within the walls of our church campus without us first going into our community. We now see that part of our role as a church family is to go into every part of our community with creative, strategic, and culturally relevant ways of sharing the gospel, just like we do in Belize. Even though we live in Hope, Arkansas, there are several different cultural expressions among us that we must reach into in culturally beneficial (incarnational) ways.
Our time in Belize has also reminded us that God loves broken people, both in Belize and in Hope. On our first trip to Belize, we worked in a neighborhood close to the church called Jane Usher. We had conducted a dental clinic during the day, and planned to return that night to show the Jesus film in their heart language. As we were trying to hail a cab from our hotel to Jane Usher, the cabbies told us, "No one goes to Jane Usher after dark." After finally convincing a brave cab driver to take us to Jane Usher and stay there until we were ready to leave, we arrived to find people huddled around barrel fires. We invited them to a central place in the community to watch our film, and the whole community came to see what was going on. After the movie, we had the opportunity to share the gospel with the marginalized people of Jane Usher.
When we landed back in the states, we were determined that Garrett Memorial was going to be a church that was physically present in every hood in Hope, along with being present on Country Club Lane. Why? Because broken people live in both places, and God sent His Son to heal broken people. What workforce of people should be going into both places, and every place in between? The church.
Over the last two years, our relationship with Cesar has shifted. After seeing the depth of his heart for the people of Belize, and realizing that he was constantly on the go from construction work and ministry, several people decided to become personally and consistently invested in the ministry in Belize. Since Cesar has received the Dynamic Church Planting International (DCPI) training from Buddy Johnson, we asked him, if he had people who personally invested in his ministry, if he would be interested in cutting back his work hours in order to spend more time in ministry. After much prayer, he loved the idea.
Currently, Cesar meets via Skype with one of our church members, Tim Nix, and receives coaching and guidance in ministry. The prayer and plan is to start a church planting movement in Belize. Cesar spends time in evangelizing and discipling new believers. We hope to see these new believers form small groups that turn into churches who plant churches.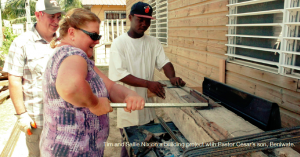 The Jane Ushers neighborhood still endures more than its share of poverty, gang violence, and brokenness; but Jesus is invading it with His presence and people, and changes are occurring largely because of Bungiu Wama Baptist Church, Cesar Lacayo and his family. We are so happy to be a part of this!