The past weeks have been filled with many natural disasters that have wreaked havoc on people all across the world. It's been a tumultuous hurricane season in particular, and the southern United States is hurting.  
In the aftermath of hurricane Harvey, millions were affected by the severe flooding that occurred. Church planters in the Houston area communicated with disaster relief efforts of the BMA to coordinate teams that could offer medical and construction assistance to those in need.
The disaster relief team from the BMA met to organize teams soon after Harvey began its impact. They wanted to set up BMMI (Baptist Medical Missions International) teams to help with medical needs, in addition to construction teams that would help with the damage.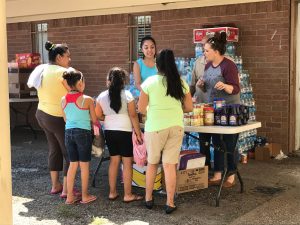 "Dr. Ladd went down to assess needs and find out where we would be best used," said Angela Rice, who helped coordinate the relief teams and participated in the relief efforts herself. "We ended up working with Hispanic churches in the Humble, Texas area. We also worked with Suburban Wood Baptist Church."
"We had a full pharmacy set up with doctors and nurses," said Glenda Sellers, who also participated in the relief efforts in the Houston area. "We mainly saw patients who had issues where they might not have been able to get to a doctor because of the hurricane. It made it easier for them to get to a medical facility."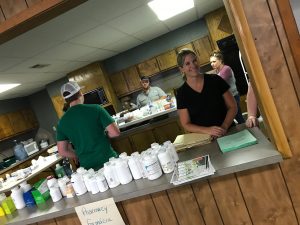 The first weekend following Harvey's devastation, the BMMI team saw approximately 100 patients with a team of around 10 people. The second weekend they saw approximately 50 patients with a team of 20 people.
"The church provided evangelism before the patients came through the medical clinic or got food," explained Rice. "Before they received any services, they went through evangelism and several people were saved!"
Those who were not working on the medical team worked with construction, and they helped with damage to a local Hispanic church and in the homes of the church members. There were around 18 people on this construction team helping the Hispanic community.
"We saw some flooding," said Sellers. "Water that had been, in some places, up to 6 feet high in one of the pastor's homes. Sheetrock walls and furniture were completely destroyed. Even church pews had been completely covered in water in one of  the church buildings."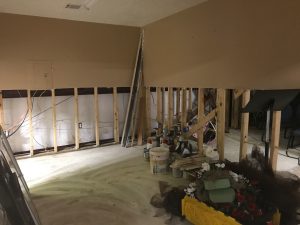 BMA Hispanic Coordinator, Michael Hight, made relationships with several Hispanic pastors during the relief efforts, and are working to develop relationships and talk more with them about the BMA. While working, Rice and Sellers were also able to establish relationships with the pastors' wives:
"They are reaching out so hard to their congregations," they reported. "They are developing a real community feeling and wanting to touch people."
Rice said that it was an incredible opportunity to be able to serve people and give them the things they need with no cost to them.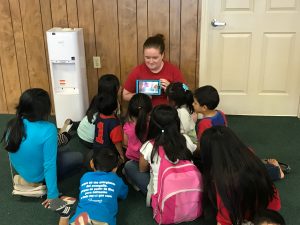 Sellers agreed, remembering this story: "There was one gentleman who we found out was diabetic, but he didn't have a glucometer to take his blood sugar. It began whenever his niece brought him in and simply asked us to take care of him. We didn't know what was even wrong with him. It was good to be able to find out what was wrong and connect with him. We were able to give him a three month supply of test strips as well. He also spent a very long time in evangelism, though I'm not sure if he made a decision."
The BMA would like to thank all those who sacrificed their time to be a part of these relief teams, both the medical and construction volunteers.
If you would like to continue to be a part of the hurricane relief efforts – for Houston, Florida, or Puerto Rico – consider donating to the disaster relief fund – 100 percent of donations go to the relief effort and no administrative costs are withdrawn.
To donate to the relief fund, send checks to:
BMA Missions
P.O. Box 878
Conway, AR 72033
Make sure and specify "Disaster Relief " in the memo line of the check, as well as the specific relief effort to which you would like to give.
You can also donate online by visiting the "give" page on our website and creating an account. Then, choose the "Relief Funds" category for your donation and make sure to include a message that specifies which relief effort your donation will be going to.