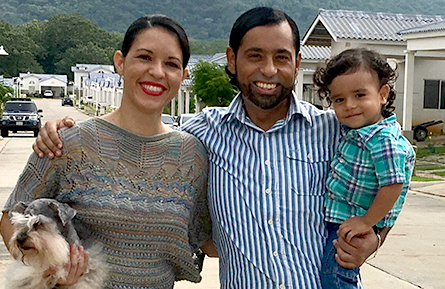 Ronald Murillo
Ronald and Carolina
---
Address: Residencial Las Olas Calle 2, Casa B-49
Playa Dorada, Vacamonte
Vista Alegre, Panamá Oeste
Panama
Phone: 507-6456-8156
Email: rmurillo1980@yahoo.com
Facebook: facebook.com/rmurillo1980
PRAY
• For new mission fields in Panama, that the Lord would open doors and continue spreading the kingdom of our God.
• For each member in our churches and missions to have S.E.D (Service, Evangelism and Discipleship) training to bring growth and fulfill our mission.
• That through my life, ministry and family the Lord will continue to fulfill his purposes in us.
• For the Lord to touch the hearts of many men to get involved in his work.
• That we will reach our goal for the organization of our first church in Panama.
PRAISE
• For salvations, baptisms and new disciples in 2016, both in CDV Vacamonte and our mission in Chame.
• For consolidating our mission in Chame and the life of our brother Reynaldo Guzman and his missionary work.
• That by the provision and protection that the Lord has given to our family and ministry this year.
• For allowing us a new year of service in this beautiful nation of Panama by leaders and brothers God has put in our way.