"Our heart is just pouring in to them," said John and Louela Page, BMA missionaries to Cambodia.
Through teaching English, pastoral leadership, and one-on-one discipleship, the Pages have cultivated a ministry that is winning Cambodian hearts and lives for the gospel. Using the inroad they had with an NGO (nongovernmental organization), they began teaching English in the city of Banlung. The NGO had been in the nation since 2006, Louela herself arrived at the mission in 2009, then the Pages began their ministry together in 2011.
"The main part of our ministry was English lessons," said John. "We wanted to do more ministry than just teach English. As we observed this ministry, we started backing away from that main plan and going to outlying villages."
Once the Pages began shifting their ministry focus away from solely teaching English and on to other ministries, they began rotating monthly around four different villages to share Christ. They also began taking students from Banlung along with them, so that the students would not only receive personal discipleship, but would learn how to be missionaries in these outlying villages and share their faith.
"We had six boys," they explained. "They had become believers at the [education] center. We took these boys and went to the villages. We housed, fed, and discipled them."
The Pages remembered that as they began their ministry together in Banlung, they simply used the gifts God had already given them. For Louela, that was Christian education. For John, that was making disciples, training believers, coaching them, and eventually letting them do the ministry.
This was quite effective in Banlung. So effective, in fact, that the Pages have now turned that ministry over to the national Cambodian believers, and have themselves moved to another village – the BMA's In Village.
"BMA's In Village started with only rice," said Louela. "They were starving."
She went on to explain that the village was dying, until previous BMA missionaries discovered the village and began giving them food and medical attention. In an act of thanks, the people named their village the "BMA In Village."
"We were able to start a school in the In Village," continued Louela. "What we've seen is that the best way to help the village is literacy. We could buy them things, but literacy lasts forever. All over Cambodia, there is a gap in medical availability and education. Our ministry is helping with this."
When the Pages moved to the In Village, their whole purpose was to train up leaders in the village to be able to take over the ministry someday. They prayed for and sought after disciples, then God sent two young men for the couple to mentor.
"The two came to live with us. Our sole purpose is to pour in to them what God has poured in to us," said the Pages.
They desire for these young Cambodian men to become pastors and church planters themselves, then train up the following generation of disciples in the villages they shepherd. They are planning on eventually moving back to Banlung once a solid, self-sustaining ministry has been established in the In Village. They are also praying that one of the young men they are discipling will decide to stay in the In Village and continue the ministry. Eventually, if God calls them back to Banlung, they would like to begin the process of taking more students to other villages, just as they did before.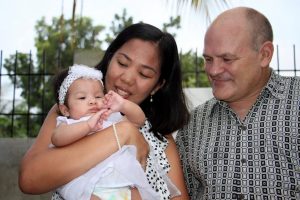 When missionaries enter a foreign mission field, it can often be difficult to put the concept of God and the gospel in to the context of the locals' culture. Oftentimes, such concepts are foreign to them, and they can't understand why they would need a God outside of the false god they have worshiped for centuries. The missionaries' "God" is thought of as just a foreign deity, rather than the sovereign Lord of all.
The Pages ran in to this problem as they began their ministry in the outlying villages of Cambodia. John remembered that as they traveled to these villages with their student disciples from Banlung, they would explain God and the Trinity, but the Cambodians would always retort "Why would we believe in a god outside our country?"
Yet, they knew of a God of all creation, "Prohpadai," which their ancestors had taught them about. Yet they lived in fear, held captive by their animistic and demonic culture. So since they had heard of this "God of all creation," the Pages began asking them questions about this.
"We started asking them about that name, "Prohpadai." We said 'tell us about your understanding of God,'" said John. "Eventually, we took that name to describe God, and explained the gospel – the reason you don't sacrifice to him, is because he sacrificed for you. We are talking about the same God and his Son."
This was an inroad for them to explain the gospel in the Cambodians' cultural context. They finally understood! They picked up on their understanding of an all-sovereign Creator, then expanded that knowledge and belief.
"It was like a night and day switch," said John. "They thought we were going to force it, but then when we used their name, they said, 'Tell me more about my God that I didn't know!'"
God is using the Pages ministry to change so many lives through salvation. In addition, many young men and women are being trained up as the next leaders of the Cambodian Christian community. Pray for John, Louela, and their daughter Gracia as they continue to be ChangeMakers in Cambodia!