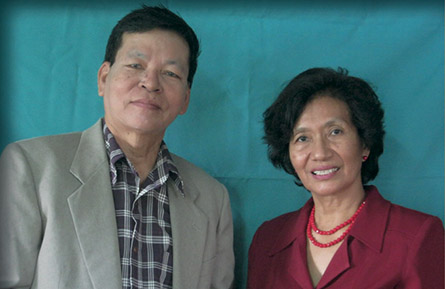 Myint Aung
Myint and Mal Sawmi
---
Address: No. 68 5th Fl., Awba Street, Kyauk-myaunggyi War Tamwe Tsp., Yangon 11211, Myanmar
Phone: 09-507-1525 | 95-1-542-073
Email: bmammy7@gmail.com
PRAY
• For two elderly male members, U Ra Ju and U Aung Mong, who have been ill and weak.
• For the family members of three members who died within the last four months: 1) Ko Thiha Tun. Pray for his wife; they had been married for only 10 months. 2) Uncle U Lwin @ Hector. Pray for his wife and three sons. 3) Daw Maw Maw. Pray for her husband two daughters.
• That souls will be saved through our humble efforts in the Buddhist stronghold country of Myanmar, and that our country will be more open to the Gospel
PRAISE
• That three elderly women who are members are now able to come back to church after suffering health problems and lots of physical difficulties.
• That with financial help from our Missions Office, our Paletwa field, Paletwa HQ Church construction has been completed successfully.
• That most of our Paletwa workers and member families had a good harvest this year.
• That we have been able to have Sunday worship meetings regularly without any trouble or interruption by the local government authorities.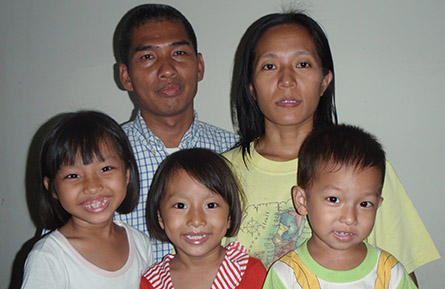 Rama Bochung
Rama, Lalhmu, Rozami, Dawngi, and Peka
---
Address: No. 2 Block 62 Mawyawaddi St. Nawaday Garden Housing, Hlaingtharyar Tsp. Yangon, Myanmar
Phone: 95-1-685411 Ext. 2204 | 0973180810
Email: rama310@gmail.com
PRAY
• For our mission churches which are in Yangon and in Karen village. our mission churches' members have been facing several difficulties.
• For me and our seven faithful missionaries and workers, who are working in Yangon suburb aea, Karen villages in Irrawaddy Division, and Sagaing Division of northern Myanmar.
• Even though we have been sharing the Gospel in more than 30 villages, most of those people are still blinded by Satan. Please pray the Lord might open their eyes.
PRAISE
• The Lord continues to bless my family and the ministry here. Our son, the youngest, turned 3 last October 17, and our two girls are 7 and 5.
• We have been sharing the Gospel in more than 30 villages in Sagaing Division, Yangon suburb area, and Irrawaddy Division of Myanmar. We have distributed 10,000 Gospel tracts.
• October 14, 2012, a couple from the Karen village followed the Lord in baptism. Their family and relatives did not agree with them to become believers. But, they decided to follow the Lord in baptism anyway.