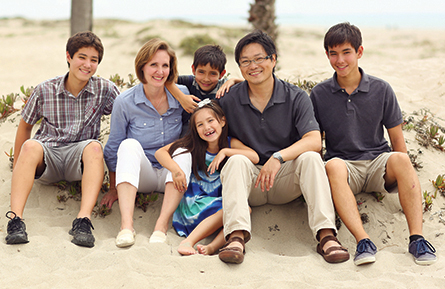 Daisuke Okada
Daisuke, Marcia, Nicholas, Noah, Nathan and Sophia
---
Address: 1-9-10 Gakuencho
Higashikurume
Tokyo, 203-0021
Japan
Phone: +81-90-9706-9699
Email: dokada@mac.com
PRAY
• That my students at Japan Bible Academy will not only know more about the truth, but also to live out the truth they learn so that they can be salt and light in their communities.
• For the pastors that I am working closely with. Pray that they can shepherd their flock according to the Scripture and that they will be faithful to "cut the Word straight" and to "preach the Word."
• For the translation project (Biblical Doctrine by MacArthur and Mayhue) as I will have the responsibility over the Japanese translation. Pray for sufficient funding, for a smooth translation process, and for the publication.
• For our family for their spiritual growth as well as physical health.
• For wisdom as we continue to consider church planting opportunities in Tokyo area.
PRAISE
• For a successful year of ministry. New classes began and more students are added.
• For a wonderful time to hear the Word of God at our annual conference to promote Expository Preaching and the ministry of JBA.
• For the first annual "Pastor's Retreat" with 10 Japanese pastors to encourage one another and learn from the Word on church ministry.
• For sustaining our family through various challenges of life.
• For His ongoing love and care shown through the ministry of many supporters and prayer partners.