"I'm truly a BMA kid. I grew up in First Baptist Church, Taylor, Arkansas. I even remember BTS and the Harvest Gleaner Hour! I went to Daniel Springs every summer for GMA (Girls Missionary Auxiliary) camp as a kid, and then for VSM (Volvunteer Student Missions) Team Boot Camp, and as a youth sponsor for youth camp in the early 2000s. I went to SOAR all through junior high and high school, served as a college volunteer, took kids as a youth sponsor, and got the opportunity to share with SOAR students about China."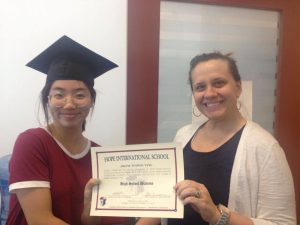 This is what Jenni Johnson, BMA missionary to China, had to say about her involvement in the BMA as a young girl. Through the discipleship she received and the equipping of her local church, Johnson was prepared to surrender to the mission field as a vocational missionary.
"I always knew God wanted me involved in cross-cultural ministry," said Johnson. "In college, my husband and I started hosting international students in our home during holiday breaks, and I also served as the coordinator for VSM Team Missions, which allowed me to go on several short-term trips from 2001-2005. It wasn't long before we felt that the time had come to move overseas and serve as vocational missionaries. In 2006, we were selected to join the ONG team and moved to China in 2007."
Johnson recalled that as she and her husband, TJ, look back on their journey to the mission field, they can see the fingerprints of God leading them directly to China. They were open to go anywhere God led them, and so when the door to a life of ministry in China opened, they walked through it.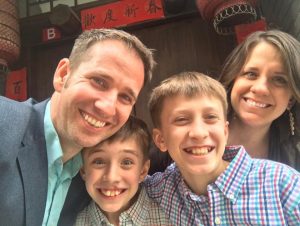 They have been missionaries in China for a decade now, but their philosophy and vision for ministry has not changed: As they are going, they strive to live a lifestyle of discipleship and outreach. This has resulted in their involvement in many different discipleship and outreach ministries that are bringing hope to many in Beijing.
"We love students and being involved in small groups and music ministries," Johnson began. "Currently, I'm the director of student services at Hope International School in Beijing, so I spend my days like most school administrators. Many of our students are missionary kids or kingdom-minded 'tent makers,' and so our role is blessing these families with quality Christian education so that they can do the ministry God has called them here to do."
In addition, on the weekends the Johnsons host a middle school-aged small group and a youth group gathering. Jenni also meets with young women weekly on Sunday afternoons for discipleship and mentoring.
"We also have a Christian podcast we are launching later this month," continued Johnson, "which is designed to disciple young Christians in China. We also intentionally choose to live in a home with extra space for guests (not a given in Beijing apartments) so that we can host those who need a place to stay for a short time, either while coming through Beijing or finding a place to live. We enjoy hospitality. Our life actually looks pretty similar to the way it did back in Arkansas."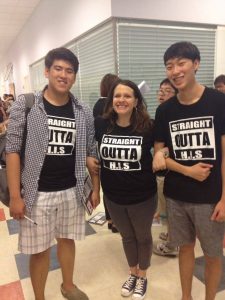 In the future, the Johnsons hope to continue their ministry in China by always equipping others who will, in turn, equip more people to do the ministry that God has called them to. One story of this happening in their ministry is about a woman who came to Christ and is now serving her Lord faithfully:
"The one 'God story' that sticks out the most is our friend Holly. She became a Christian by first reading our kids' storybook Bibles, and after reading these stories, she began asking questions and reading a Chinese Bible. She was the first person my husband baptized in our home (in the bathtub during small group). She is now a strong believer and working at Hope International School as the preschool learning assistant. It has been such a joy to watch God heal her family and set them on a firm foundation, both in faith and in life," Jenni recounted.
The Johnson family asks for your prayers for continued favor with the Chinese education authorities. They are the lone Christian school in Beijing, and there is a constant danger of the school being shut down. They are also praising God that in the past few years, they have been able to share Christ with Buddhists, Muslims, Ba'hais, agnostics, and atheists.
"I'm so blessed to be on the front-lines of what God is doing in the world," concluded Jenni. "Beijing is such a cultural crossroads. I miss Arkansas, but I'm so thankful I'm here."
Would you join us in praying for Jenni and TJ Johnson as they continue their fruitful ministry in China?