Last week, Missions highlighted the ministry of John and Louela Page. Here are a few more stories of how God is using them to change eternities for Christ as they live among the people of Cambodia. 
The village where John and Louela Page call home, known as the In Village, is a place where their love for Christ is well known. It is no secret that this missionary couple follows Christ, and some in the village have decided to follow him because of Pages example of faith. Yet there are still many who are held captive by their animistic and demonic practices.
"When sickness comes, it often involves a blood sacrifice to the demons," the Pages explained. "When the blood sacrifices don't work, they will often ask us to come pray for the sick. Physical healing would come when we prayed, and it gives proof that God is who he says he is."
The village people saw this specifically with a man named Samnang. He was a young man who had gotten such a high fever, due to intestinal worms that worked their way in to his brain, that it had paralyzed his brain. The church began to pray for him as they sent him away to the hospital. Soon, the parasite was gone and Samnang was stable. The people in the Cambodian village were able to see healing like they never had from their blood sacrifices.
"There's also a story of a man named Ratana," continued Louela. "He hated it when the Christians in would distribute tracts. But he went to Banlung and enrolled in our English classes. He simply hated Christianity."
Louela continued to tell of how, during their first year in Cambodia, Ratana would come to Sunday school at their ministry, because they would hand out prizes if students memorized verses. He would come to get the prizes, but he would never attend worship services. That is, until one night at the Center in Banlung, a Christian showed him kindness like he had never seen.
"It was raining hard one evening, and Ratana had ridden his bike. He was soaked," Louela explained. "Someone in the congregation gave him clean clothes and a towel to dry off with. This small act of kindness touched his heart. After this, he began attending the worship services. Soon, he got saved and was baptized!"
At this point in time, Ratana has been serving the Lord for at least eight years. He is currently attending college, and the Pages are praying that this man from a broken home who was shown Christ through a small act of kindness will soon begin a college ministry reaching out to those who were once skeptics like himself.
The Pages remember that when they moved from the city of Banlung in to the In Village, many people like Ratana became interested in the things of God. The people in the small village couldn't imagine why someone would care for them so much. It didn't make sense, and they had to know why.
"It translates in to today," said the Pages. "When you get on a person's level, when you're more than superficial, when you live with them, it speaks a deeper language with them. When we ate their food, cooked on a fire, and lived with no air conditioning, it was a bigger thing that we even realized."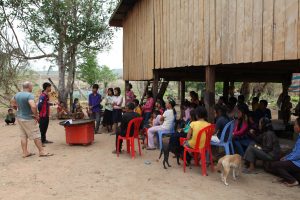 Keep John and Louela Page and their daughter Gracia in your prayers as they minister in the villages of Cambodia as ChangeMakers.