As featured in mission:world Magazine
Thanksgiving is here, and for many of us it starts the countdown to Christmas – two of the most celebrated months of "thankfulness" for Christians. This year my wife Donna and I began our countdown in September – not because we are super spiritual and pious, but because the countdown to Christmas begins in September here in the Philippines. I'm surprised advertisers in America haven't caught on to that.
We are a bit more wistful this year spending our first ever Thanksgiving and Christmas away from our family.
With a wide stretch between us and family, we do feel a bit like the original Pilgrims. We've left our home and moved 8,500 miles away. However, unlike the Pilgrims, we experienced our "trials to thankfulness" before we left.
After forty years of ministry in local churches, we knew God was calling us to finish strong and well for Him. Twenty-five years earlier He called; twenty-five years later He began the final preparations for our journey.
I've never been known for patience. No one really likes delays. But, after affirmation from our children, pastor, and First Baptist Church in Magnolia, Arkansas, our sending church, we were in the final three months before departure and ready to go.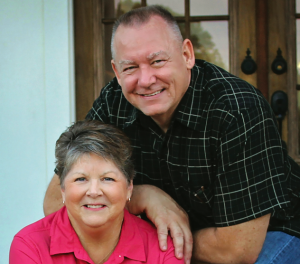 After twenty-five years of delay, what's a few more months, right? In August, I had triple heart by-pass surgery. Then Donna endured a rare form of melanoma of the great toe, surgical amputation, followed by surgery for infection and three and half months of wound care. Lord, we've resigned our jobs and sold our home and all our possessions. What's going on?
Wait. I've been preaching, teaching, and counseling people on this very topic all my life. It appears as if I never learned it myself. "Christians can find joy in the midst of our trials." "God doesn't place on us more than we can handle." "God doesn't make any mistakes." Sound familiar? We had to be reminded of 1 Thessalonians 5:18, "Give thanks in all circumstances; for this is the will of God in Christ Jesus for you." Then a friend of Donna's coined the phrase that became our badge: "delay isn't denial."
Later we were able to see the blessings in our trials. Instead of leaving in October, we got to spend Thanksgiving and Christmas with our girls and grandchildren. I had a few more weeks to visit churches, enlisting prayer partners and supporters. And the infirmities of our bodies got repaired in the United States instead of a third world country. All these things were certainly true, and it's always easier to see the blessings from God in retrospect, but God was using these last-minute delays to prepare us to be thankful once we were on the field too.
In early January, Donna and I were both cleared to travel. I kept an eagle eye on the horizon for the next obstacle to appear. We didn't waste any time, and arrived in the Philippines on January 15. We love the Philippines. We love living here. We love the people here. We love ministry here. We even love the cultural things that "drive us crazy" as Americans.
With a year's worth of hindsight, we are ready for an American Thanksgiving in the Philippines. Believe me, we are anxious to celebrate what the Lord has brought us through this past year. And we've discovered lots of other things, small things, to be thankful for too. FaceTime, Facebook, and SMS texting allow us to "visit" our friends, family, and most importantly our three granddaughters whenever we want. We are thankful for missionaries Doyle and Linda Moore who poured forty-one years of experience into us before they returned home in June. We are also thankful for our new friends and co-missionaries Doug and Diane Lee, the strength we lean on daily, as well as the over 100 churches, family members, and friends who have partnered with us to make it possible to move and live here.
"Thankfulness" in Hebrew is the same word as confession. Our thankfulness is our confession to God that we must rely upon Him for all things, that we cannot rely on our own feeble actions, and that He truly holds all things in the palm of His hand.
The Pilgrims used the first Thanksgiving to confess their dependence upon God. Almost four hundred years later, we must remember to confess that same thankfulness.
Give thanks in all things.