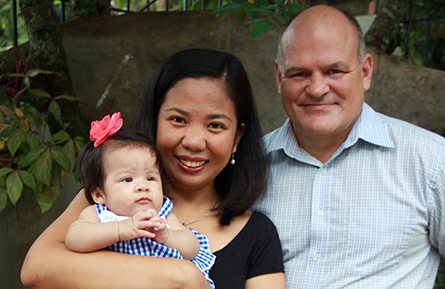 John Page
John, Louela and Gracia
---
Address: PO Box 8906
Banlung, Ratanakiri 16000
Cambodia
Phone: +855-97-280-8806
Email: page1062@gmail.com
PRAY
• That God will lead us to new students from unreached villages who we can disciple to reach their village for Christ.
• For more opportunities to reach Talav tribe for Christ. This Laos- speaking village has been on our hearts.
• For the new believers to let Christ shine through them and shed the old rituals of demon worship.
• For our leaders in Banlung and Andoung Meas that they may grow and continue focusing on making disciples. 
• For God's provision of an all-terrain vehicle, health and protection. 
PRAISE
• For adding Gracia Fae to our family.
• For our team of disciples who are living with us at the In Village
• For our church in Banlung under the leadership of Yosef Soum that is growing and making disciples and training leaders.
• That the Kachok tribe has opened up their hearts and received us with open arms into their village.
• For the churches, families and individuals that are partnering with us in the gospel.