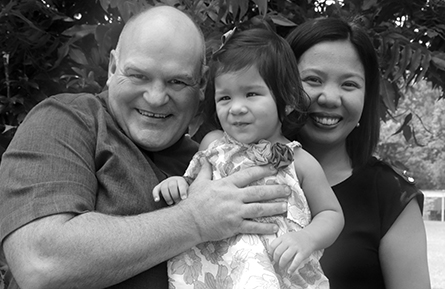 John Page
John, Louela and Gracia
---
Address: PO Box 8906
Banlung, Ratanakiri 16000
Cambodia
Phone: +855-972-808-806
Email: page1062@gmail.com
PRAY
• For the students that are coming to Banlung  from different villages to go to high school.
• For Sam-at as he leads the In Village ministry.
• For Joseph and his family as he leads the Banlung ministries.
• That Louela will have opportunities to share her faith and the love of Christ as she works with teachers in a school in Banlung.
• That individuals, families and churches will continue to partner with us in reaching Cambodia for Christ.
PRAISE
• For His constant watch over us.
• For provision of our one-year visa and work permit.
• For the ministries in Banlung as they reach out to their Jerusalem.
• For the ministry in the In Village as they live the Gospel and the love of Jesus Christ.
• For meeting our physical, emotional and spiritual needs.