"And he said unto them, Go ye into all the world, and preach the gospel to every creature." Mark 16:15
Following this mandate can mean preaching the gospel in the workplace, in a country across the globe, or even in a warzone – and perhaps all three.
Dr. Scott Carson is the BMA's Chaplaincy Director and endorsing agent for military, industrial, and civil chaplaincy. His thirty-year journey from being accepted in to the chaplaincy program to becoming director was preceded by a deep calling from God toward this ministry.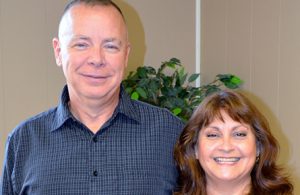 "Almost right after I got saved in high school, I felt a calling to military chaplaincy," said Dr. Carson.
Yet there were a significant amount of requirements to be accepted in to the program, so Carson began attending Bible college. After graduation, he still felt God calling him to chaplaincy, yet there was still a long list of requirements that he needed to meet.
"I still felt God calling me, but I was pretty burned out after my undergrad, so I said no," explained Carson. "I took the first thing in ministry that came along, thinking 'I can serve the Lord anywhere.' That's not correct, I learned very quickly. So I became an assistant pastor of a small church, and though it lasted only one year, I think of it as my '40 years in the wilderness' experience."
During his time in "the wilderness," God really laid military chaplaincy on his heart, even though it would mean going back to school and working through the lengthy process. He began looking at which seminary he would attend, and the Lord led him to Jacksonville College, a BMA seminary.
"They worked with me quite well," said Carson. "I approached them with my call to military chaplaincy, and they worked out a program where I could get through three years of school in two years. They really embraced me, even though I was from a non-BMA background."
While attending seminary, Carson pastored a BMA church for two years, which met another requirement for the program. He remembers this time in the pastorate as a "wonderful experience with a great group of people." As his time in seminary concluded, Carson applied for and was accepted in to the military chaplaincy program, which kick-started his thirty-year journey.
"I spent a total of nine years in Europe over that period, a year in Korea, and a year in Afghanistan and Iraq – 12 years of overseas duty. I was able to be the first BMA chaplain to make the rank of colonel, with Bo Banks making colonel right after me in the National Guard," explained Carson.
As his retirement from the chaplaincy drew near, Carson was approached about becoming the endorsing agent for BMA Chaplaincy. He accepted this position, and is serving to this day.
"My duties are to ensure our BMA ministers are qualified and to coach them in military chaplaincy. They must have a bachelor's degree, 72 hours of religious post-graduate studies, be the pastor of a church for two years, meet physical requirements, and be under the age of 32."
Carson admits that it is a long journey for people, and it is difficult to meet the requirements before the age of 32. Yet the opportunities to become a military chaplain are tremendous, as they are actively and continually recruiting.
As Carson finds people who are interested in chaplaincy, he contacts them immediately and begins the process of seeing if they're qualified. First requirement – they must have pastored, or be pastoring, in the BMA.
"We just want to make sure we are on the same sheet of music on that," quipped Carson.
He explained that the door for conservative evangelical Christian chaplains is currently wide open, and there is a great need.
"We should continue to put Bible-preaching chaplains in the military as long as they accept us," said Carson. "As long as they keep a chair at the table, we need to fill those chairs."
One popular myth Carson debunked was that chaplains cannot pray in the name of Jesus. This is untrue. It was an issue briefly until Congress got involved, and the Army never had that rule.
"The military has regulations to protect the chaplains' personal faith and the way they conduct ministry on behalf of their denominations," explained Carson. "The military doesn't violate the tenants of religions. You will have to cooperate with other religions, but you will never have to compromise your own."
If a BMA pastor or future BMA pastor is interested in becoming a chaplain, Dr. Carson can provide not only military endorsement, but also industrial and civil endorsement. Endorsement is required for many municipalities, such as the Bureau of Federal Prisons and many companies.
For more information about BMA chaplaincy, contact Dr. Scott Carson at scott.r.carson@gmail.com or visit bmamissions.org/chaplaincy.