By Emily Brantley, as featured in mission:world magazine
Micah 6:8 says, "He has shown you, O man, what is good. And what does the Lord require of you? To act justly and to love mercy and to walk humbly with your God." After years of hearing this verse, I have learned that finding and being a person who meets these requirements is very rare and difficult. Our earthly selves encourage us to be everything but what God has asked us to be in this verse. Thankfully, I have been given the privilege during my life to know and learn from several people who exemplify this verse. I want to tell you about one in particular.
Huber Aliaga is the pastor of Iglesia Antioquía (Antioch Church), a Baptist Missionary Association (BMA) church located in Ica, Peru. In 2010, Johnmichael and Angela Poulin (along with their three sons) answered God's call and moved from their home in Mississippi to Ica to plant churches and to be missionaries with the BMA. Shortly after their move, during a visit to a church in Tarma, Peru, the Poulins met Huber. After hearing of their work in Ica, Huber decided to join them in their church-planting efforts and moved to Ica with them. Brother Johnmichael mentored Huber for a year and a half before he became the pastor of Iglesia Antioquía. He has continued to faithfully pastor the church for the past six years.
I had the privilege of meeting Huber when I visited Peru for the first time in 2013 on a Volunteer Student Missions (VSM) trip. Since then, I have visited Peru three more times; and I have spent a total of fourteen weeks in Ica observing the work that Huber does for the church there. Huber is a single man who lives in a one-bedroom apartment. He is soft-spoken, humble, gentle, and does everything with the hope and desire of bringing glory to God. Huber has a passion and love for Christ that is evident in the way he sacrifices his time, money, and energy for the work in Ica. Yet, he doesn't see it as a sacrifice at all, but rather as the greatest privilege he could have.
During my time in Ica, I have been able to attend several church services at Iglesia Antioquía and hear Pastor Huber preach the gospel to those in attendance. Though I am not fluent in Spanish and could only understand bits and pieces of the messages, there are some things that transcend languages. First, Pastor Huber has an incredibly large heart for the Lord. In the pulpit, Pastor Huber seems to come alive as he shares God's word with his people. It is a rare and beautiful thing to find someone who genuinely loves the Lord above everything else. Pastor Huber is one of those people. It is evident in the way he lives his life that Christ is all that matters to him.
Second, Pastor Huber has an intense love for people. It is obvious that he finds his joy in being around other people and discussing the gospel with them. He is patient and kind and understands how important it is for people to understand the gospel before they can be saved. If he could, he would spend all day talking with anyone who would listen about what Christ has done for him.
Finally, Pastor Huber has a joy that can only come from the Lord and by recognizing who he is and what he has done. In all the time I have spent with Pastor Huber, I have never seen him without a smile on his face. He has a joy that is unending, unwavering, and contagious. I have seen him with beads of sweat on his face, hot and tired after having walked miles to invite people to church functions—yet still with a huge smile on his face. When everyone else is ready to complain and to succumb to bad attitudes, Pastor Huber's smile is on his face and his joy is there ready to be shared with us.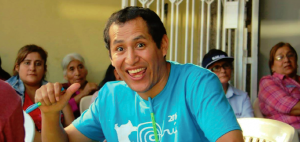 Pastor Huber is a humble, loving, and faithful servant to the cause of Christ and what He is doing in Ica, Peru. I pray that I can learn to be more like Pastor Huber; and I pray that God will raise up more men like him to lead our churches all over the world. Pastor Huber, thank you for the love and commitment you have for the people of Peru. Thank you for meeting the requirements that God lined out for us in Micah 6. Thank you for acting justly, loving mercifully, and walking humbly with God in order to be a witness to the lost in Peru.