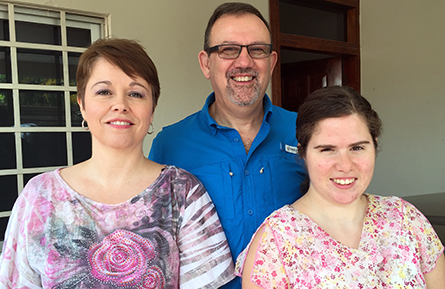 Brad Gathright
Brad and Penny
---
Address: Apartado Postal #610 San Pedro Sula, Cortez Honduras
Phone: 903-258-6117
Email: bradleygath@yahoo.com
PRAY
• For favor as our groups are beginning to reach out to the lost and hurting in their communities.
• For wisdom as we meet with interested pastors and churches.
• For continued health.
• For the leaders of the work here in Honduras.
PRAISE
• For the successful transition to national leaders of the annual women's conference.
• That we are continuing to see lives changed in a profound way.
• That we are seeing growth in training leaders and have many options for expansion.
• That we enjoyed our first furlough and were so blessed by the love and encouragement of the churches in the U.S.
Denis Lopez
Denis, Ada, Raquel, Heidy, and Hellen
---
Address: Colonia Ciudad Nueva 27 Calle B Bloque 8SE #313 Apartado Postal 610, Cortes San Pedro Sula, Honduras
Phone: 504-99458823 | 504-25594008
Email: deniseduardolopez@gmail.com
PRAY
• For missions projects in new towns.
• For growth of leadership in Honduran churches and a mission field vision.
• For continued unity of vision among missions and churches.
• For many new believers in Belize City and Belmopan, the Belize captial.
PRAISE
• For new missionaries and mission fields in Honduras.
• For the continued growth of missionary vision in Honduras and Belize.
• For the organization of our National Fellowship in Honduras.
• For the growth of our church in Belize.